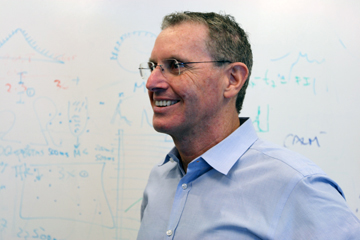 They call it Hi-Fi-Sci: It's the marriage of music and science animation, it features HMS scientist Tom Kirchhausen and it's coming to the Cambridge Science Festival on Sunday, April 14.
Five composers will premiere original pieces of music inspired by five scientists, including Kirchhausen, an HMS professor of cell biology and pediatrics and an investigator at Boston Children's Hospital.
Kirchhausen has long been a leader in using powerful visualization technologies to drive discovery. His lab studies the processes that mediate and regulate the movement of membrane proteins throughout cells. Using exquisitely sensitive total internal reflection fluorescence microscopy, he led a team that for the first time recorded the initial five seconds in the life of membrane vesicles, small bubbles that pinch off from the membrane to carry cargo into cells. Read and watch more here.
Kirchhausen's single-molecule movies captured the chaotic origins of dynamic assembly in cells, and they also fired the imagination of musicians, according to this video from Dinosaur Annex Music Ensemble, known as a presenter of chamber music series. Composer Kurt Rohde chose a two-minute segment from a longer animation that Kirchhausen made with digital artist and biochemist Janet Iwasa.
To see the free concert, head to the MIT Museum on Sunday, April 14. Organizers say tickets will be distributed to the first 125 people, beginning at 7 p.m. for the 7:30 performance.