April 22, 2013
When first-year Harvard Medical School student Gordon Bae took to the stage in a TMEC auditorium last week, audience members nudged their chairs back a bit.  His performance was, not to put too fine a point on it, "edgy."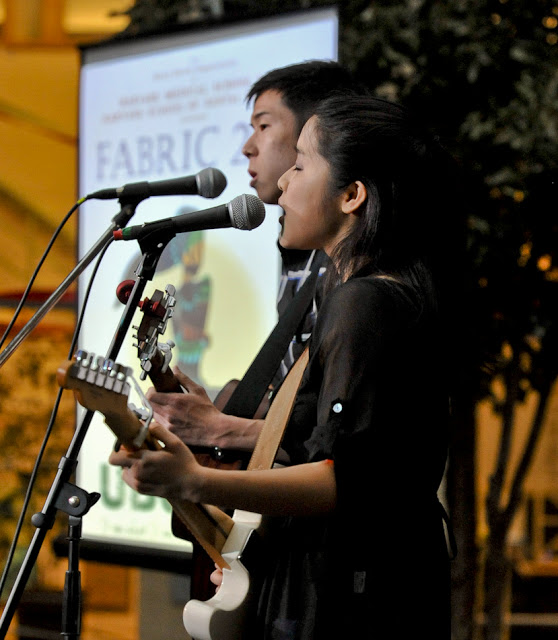 Employing his choreographic skills in a piece titled "Nine-Piece Chain Whip," Bae put on a martial arts demonstration with that precisely named weapon, and as the whip carved arcs of silver in the air around him, audience members were both enthralled and a little intimidated, both with his artistry and skill and his performance's distinct element of danger.
Bae was just one of more than 100 members of the Class of 2016 participating in the 13th annual FABRIC performances on April 12, part of the annual HMS Revisit Weekend, where accepted medical school applicants returned to campus for a closer look at HMS as they make their final decisions on which school they will ultimately attend.
 This year's high-energy show, traditionally produced by the HMS Black Health Organization (BHO), was presented under the title "Ubuntu"—an African philosophy that focuses on the nature of people's relations with society and each other.  One of the key characteristics of the philosophy is an "extroverted community," and members of the first-year class ably showcased their exuberance through a wide range of talents and skills.
With more than 100 members of the class taking part, the class's entertainers demonstrated both their diversity and their cohesiveness—a key objective of the performance.
 The 17 song and dance numbers in this year's show were drawn from the cultures of more than a dozen countries, and were presented by a cast of performers from all corners of the world.  The program ranged from solos to a 10-person a cappella group and a record-setting number of dancers on stage at a single moment.
The solo highlights included Lily Liu's reading of "Lights," a poem about her experiences as both an admitted student and as a first-year student.  Two other solo performances provided counterpoint to the generally light-hearted mood of the evening as Melina Molina gave angry heat to her song, "Tu Solo Tu" ("You, Only You,") a Spanish tale of a love that ended badly. 
Later in the program, Anjali Thakkar offered up a haunting and tender dance narration titled "Let No Girl Be Born: A Mother's Mourning."  Using the Bharatanatyam dance form of India, Thakkar embodied the grief of a young woman who was the victim of a brutal gang rape in December 2012.
The HMS Heartbeats singing group added their talents to a capella versions of "Killing Me Softly" and "Bad Romance" while the HMS Gospel Choir performed "Amazing Grace," and Viet Nguyen, accompanied by George Chen on guitar, sang "Ain't No Sunshine" and "Wayfaring Stranger." 
For diversity of a different kind, a group calling itself The Amazingly Talented HMS Staff Members (Mark Coyle, Evan Sanders and Osi Brathwaite) contributed their efforts on the R & B song "Because of You."
Much of the evening's program was given over to smartly executed choreography, the show opening with "Hip-Hop" by an ensemble of 12 dancers. Other dance numbers included a serving of SNSD's "The Boys" with a side of Gangnam-Style footwork. 
"Gumboots" featured a dance style that evolved from the unspoken language used by forced-labor miners in apartheid-era South Africa. Gumboots, the standard-issue work shoes for those miners, also served as instruments to a vocabulary of stomping, hand clapping, toe tapping and thigh slapping.
The Class of 2016 also took the opportunity to recognize Nancy Oriol, HMS dean for students and associate professor of anesthesia, for her role as both mentor and adviser to many first-year students, and her lead-by-example commitment to public service. 
In the program notes, Oriol spoke of the matter of diversity in the context of her own perspective as a teacher. 
"My current students," Oriol said, "include an Olympic athlete, a published author, a watercolor artist and a Peace Corps volunteer."
Brief videos were interspersed throughout the evening, some featuring students responding to questions about their HMS experiences, including "Where were you when you learned that you had been accepted to HMS?" to "How has your everyday life been affected by being a medical student?"—to which a student responded, "Well, it's perfectly OK to discuss diarrhea in a polite conversation."
These and other videos helped underscore a subtle theme to the show, which is that the Class of 2016 has quickly gelled into a community. The students like each other and, with just a little bit of presumption, they are really happy to have almost made it through their first year.
While the show's mood was one of overall gaity, the second to last performance was a video wink and nod to medical school overachievers. In "The Gunner Song," the students offered up a rap rendition praising—satirically, of course—the gunners among them. They were joined on screen by Oriol, cell biology lecturer Cynthia McDermott, clinical instructor in radiology Trudy Van Houten and HMS Dean Jeffrey S. Flier in a chorus that boasted, "I never skipped a class, got my Netter Cards in my pocket."
The show closed with a Bhangra, a form of Punjabi harvest dance that represents a fusion of many cultural influences. This Bhangra was a high-energy dance number that seemed intent on setting a record for the number of dancers on stage as the entire cast gathered to show off their shared enjoyment of the community that they joined just seven months ago.
Ubuntu, indeed.