Remarkable student sees lost novel in print
Wed, 02/22/2012 - 11:41pm
Comments
by University of Manchester
20 Feb 2012
A former trainee corporate lawyer who spent three months in a coma is to finally see her novel in print after completely forgetting she had written it.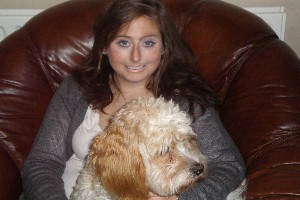 Now a Master's student at The University of Manchester, Alexandra Singer suffers from long-term memory loss following a near fatal attack of cerebral lupus in 2008.
Her brother Joshua had discovered the notes to her novel while clearing out her London flat.
Twenty-nine-year-old Alex  spent much of the following two years in hospital teaching herself to write again to work on the book.
And after defying the odds, Tea at the Grand Tazi is published by Legend Press next month.
She had been told by doctors she might never be able to walk again, and spent months fighting paralysis, breathing through a tracheotomy tube.
Even today, she still relies on a wheelchair to a large extent, although with intensive physiotherapy her mobility is improving and she is beginning to walk at her home in Cheadle where she lives with her family.
She said: "My experience was horrendous: the doctors thought I would be brain damaged and for six months I was paralysed and couldn't speak.
 "But it was the book that helped me to pull through:  I apparently had the idea before the illness, but was too busy working to write it.
 "I was excited when my bother brought the script to me in hospital and the prospect of finishing it inspired me to relearn to write.
 "The book is set in the evocative landscape of Marrakech, Morocco and follows a young expat Maia who struggles to take control of her life, after succumbing to the seedy underbelly of the city.
 "I was travelling a lot before I fell ill and met many unusual people, expatriates running away from their lives in the UK, which is what influenced the book.'
"I am so lucky to have such a supportive family and to have an amazing University on my doorstep. They thought I was going to die but have supported me in every way."
Alex won runner up prize in the  Luke Bitmead Bursary competition, which was established to support young novelists in the memory of Legend Press author Luke Bitmead, who died too young.  The publishing deal with Legend soon followed.
Following her experiences in the NHS, she chose to take  the MA in Health Care Law and Ethics at the University's School of Law in Sept 2011.
She also does freelance legal translation and research as well as lots of physio in the hope of walking again.
She added: "I still have spasticity in my legs: the doctors still don't know what they are dealing with though I am not in pain anymore.
"If I wasn't so bored with it all, I suppose I would be scared.
"If I walk again, I will take the next plane to Brazil: travelling was something I loved to do.
"But I cannot live without writing and I am so relieved to have recovered full movement in my hands."
'I was thrilled to get the bursary and to know that people enjoyed my writing, but I never thought I would be published. I had to read the offer email five times to make sure.'
Notes for editors
Tea at the Grand Tazi is published by Legend Press.
Visit http://www.legendpress.co.uk/ and http://www.alexandrasinger.co.uk/ for more details
Images are available
Alex is available for comment
For media enquiries contact:
Mike Addelman
Press Officer
Faculty of Humanities
The University of Manchester
0161 275 0790
07717 881567
Michael.addelman@manchester.ac.uk